"Integrity, accountability and transparency are pillars of public trust. When any of these crack or chip away, the result is broken democracy."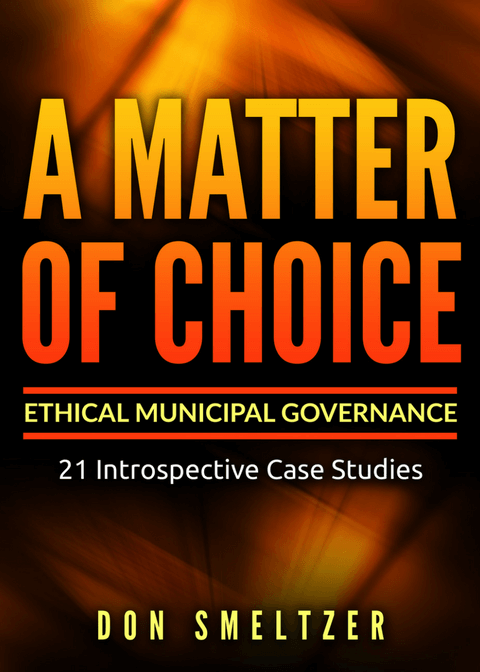 A Must Read For Council Members
A Matter of Choice is about ethics in municipal decision-making. It is intended primarily for those who serve on municipal councils and for senior employees of the municipal public service. Educators and others interested in decision-making at the local level will also find the content of value.
The chief goal is to encourage thoughtful self-analysis and discussion about values which are fundamental to democracy. A secondary goal is to provide a selection of practical resources that will assist the process of decision-making.
At the core of this book are 21 brief, introspective case studies. Each case study challenges readers to face themselves and to consider how they will respond if placed in a situation similar to that described.
Table of Contents
Introduction
Democracy at the Core
Municipal Corruption
Ethical Decision-Making
Under the Magnifying Glass
Introspective Case Studies
Case Study 1 – Mr. Clean
Case Study 2 – Back to School Daze
Case Study 3 – Wet Blanket
Case Study 4 – Friends with Benefits
Case Study 5 – Family Affair
Case Study 6 – Follow Suit
Case Study 7 – Back Scratch Fever
Case Study 8 – Neighbourhood Watch
Case Study 9 – Loose Lips
Case Study 10 – Colours of the Rainbow
Case Study 11 – Pants on Fire
Case Study 12 – Delusions of Grandeur
Case Study 13 – Too Many Chiefs
Case Study 14 – At All Costs
Case Study 15 – All for Show
Case Study 16 – Fifty Shades of Gray
Case Study 17 – Sleeping Dogs
Case Study 18 – Too Big for Britches
Case Study 19 – Back Against the Wall
Case Study 20 – Hot Seat
Case Study 21 – Playing Dirty
From Don's Toolbox
Program Funding Questions
Post-Election Orientation
Chief Administrative Officer Evaluation
Policy Development
Meeting Conduct Guidelines
Code of Conduct Guidelines
Tips for Effective Leadership
Tips for Managing Difficult People
Conclusion